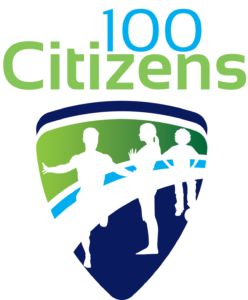 3 WINS Fitness began in 2011 as "100 Citizens." It was a project at Recreation Park in the City of San Fernando to involve Kinesiology students at California State University, Northridge to help them understand the value of their education for improving the public's health.  The intention was to show them how they could create a free, sustainable, and replicable program that was based on the philosophy of seeking a minimum of 3 WINS in all your endeavors; in this case student benefit, participant fitness, and community health were the identified wins.
In 2012, First Lady Michelle Obama's Let's Move! campaign challenged Faith-Based and Community Organizations to participate in an international competition to share a video and expose the world to their program. Our focus has been on parents being role models for their children and what better role model than one who exercises regularly and eats and serves healthy food. 100 Citizens won the popular choice vote and visited the White House in 2013.
In 2016, the program has proven itself sustainable with the program expanding to 4 public parks in the San Fernando Valley serving over 200 participants, 3 programs at sister universities in San Francisco, Stanislaus County, and Los Angeles all free for participants with no external funding. In addition, there are 2 programs in South Los Angeles attached to a CDC REACH grant with partners, Community Coalitions and Los Angeles County Department of Public Health. There is a complementary Healthy You program with a focus on diabetes prevention and healthy eating. 100 Citizens was also selected to a Commitment to Action plan for the Clinton Global Initiative University with the plan to expand the program throughout the Cal State University system with thoughts building to the rest of the country's 700+ Kinesiology programs.
After collaboration with multiple partners over the years, the American Council on Exercise has presented us with the opportunity to open 10 new sites in 2017 to focus on the health of the Northeast San Fernando Valley.